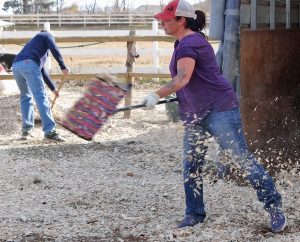 Thank you for your interest in Dream Catcher Therapy Center.  Volunteers are an invaluable asset ot this organization, and we have many areas in which we could use your help.  The following gives a brief description of duties that our volunteers participate in.
- Cleaning stalls & pens
- Sweeping the barn & tack room
- Grooming & Handling Horses
- Putting away equipment
- Cleaning the tack room, therapy room and storage areas
- Office Work - answering phones, filing, organizing, setting appointments, billing, etc.
- Feeding Horses
- Building fences and shelters
- Participate in fundraising events
- Helping at events
- Community Outreach & Networking
- Volunteer Coordinator
Please understand that we give priority to those individuals that can volunteer at least one time weekly, consistently.  Because barn and farm chores are labor intensive we require that all volunteers must be able to lift at least 30 lbs.  Because of liability issues, we cannot guarantee that every volunteer will be able to have direct interaction with the horses, this is handled on a case by case basis.  If you are under the age of 14, a parent or guardian must also complete an application and accompany you each and every time you volunteer.
To become a volunteer you must complete our application.  After completing your application, please return it to Jody Nixon and we will be in touch to schedule a time for a tour and orientation.